Field Recordings – page 2
go to: page 1 / page 3 / page 4
---
Audio clip: Adobe Flash Player (version 9 or above) is required to play this audio clip. Download the latest version here. You also need to have JavaScript enabled in your browser.
Listen to all the samples on this page in sequence with the player above, or individually below.
---
12.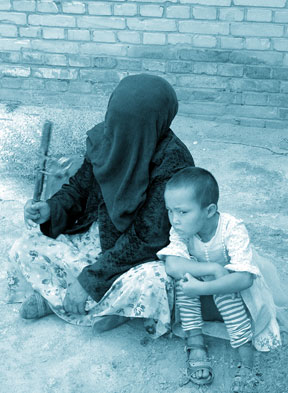 Audio clip: Adobe Flash Player (version 9 or above) is required to play this audio clip. Download the latest version here. You also need to have JavaScript enabled in your browser.
unknown title – Tujanhan Kasim – This woman was so incredible. Her voice and sapaya rhythm cut clean through all the dust, vehicles and noise on the Artux street she was begging on. We invited her to our local helper Dilnur's house nearby, offered her lunch, a place to escape the heat & exhaust of the street for a bit and recorded a few long songs. She said she'd just come from her village, Paize Awat earlier that day.
---
13.
Audio clip: Adobe Flash Player (version 9 or above) is required to play this audio clip. Download the latest version here. You also need to have JavaScript enabled in your browser.
Sufi ritual music – Awat
---
14.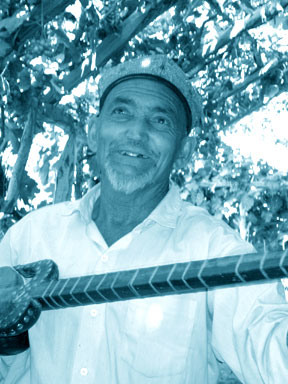 Audio clip: Adobe Flash Player (version 9 or above) is required to play this audio clip. Download the latest version here. You also need to have JavaScript enabled in your browser.
Tagh Koxak – Rosei Tomir – Rosei has a unique singing style as you can hear – his high, feathery voice took me a bit by surprise at first. His friends egged him on initially, teasing him saying that he was no longer the man he used to be…that he couldn't make his voice as high as he before. ravap & singing. recorded in Keria
---
15.
Audio clip: Adobe Flash Player (version 9 or above) is required to play this audio clip. Download the latest version here. You also need to have JavaScript enabled in your browser.
Kyrgyz folk song – Ebray, Hayat, Helil – komuz (Kyrgyz lute) , timur komuz (jawharp) & choor (ocarina-like flute) – outside of Artux (area with a significant Kyrgyz population)
---
16.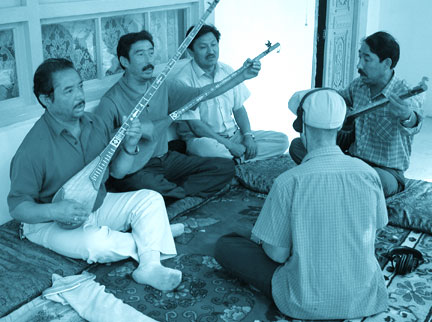 Audio clip: Adobe Flash Player (version 9 or above) is required to play this audio clip. Download the latest version here. You also need to have JavaScript enabled in your browser.
Hotan Senemi – UbulYasin Osman, UbulKasim Mettursun, Tursun Tohti Kurban ,Iminjan Kurban Niyaz – song featuring tambur and 2 dutars and singing – recorded in a family courtyard in Lop
---
17.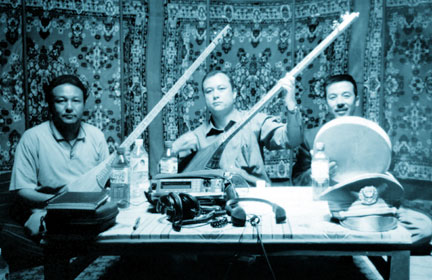 Audio clip: Adobe Flash Player (version 9 or above) is required to play this audio clip. Download the latest version here. You also need to have JavaScript enabled in your browser.
Zorghan – Turzan Jan – folksong – dutar and singing – recorded in a yurt in Hotan
---
18.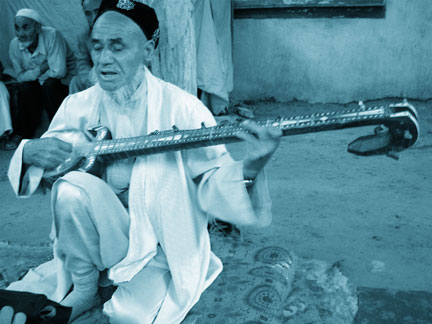 Audio clip: Adobe Flash Player (version 9 or above) is required to play this audio clip. Download the latest version here. You also need to have JavaScript enabled in your browser.
a dastanchi (story teller) in Karkax
---
19.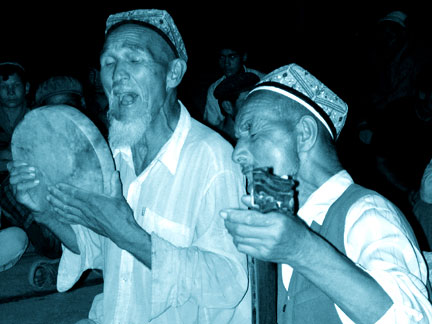 Audio clip: Adobe Flash Player (version 9 or above) is required to play this audio clip. Download the latest version here. You also need to have JavaScript enabled in your browser.
Abdulxukur Karim, Dilmirat – village outside of the Aksu area. 2 farmers in their mid 70′s under grape trellises in a courtyard. Dolan music
---
20.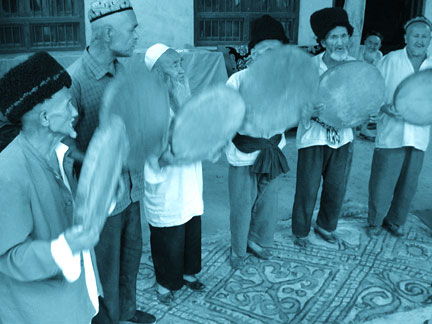 Audio clip: Adobe Flash Player (version 9 or above) is required to play this audio clip. Download the latest version here. You also need to have JavaScript enabled in your browser.
Ritual baqshi music – 9 dapendi – elderly men in a semi circle, playing large dap (framed donkey skin hand drums) typical of this largely shamanic form – recorded in a courtyard in Karkax
---
21.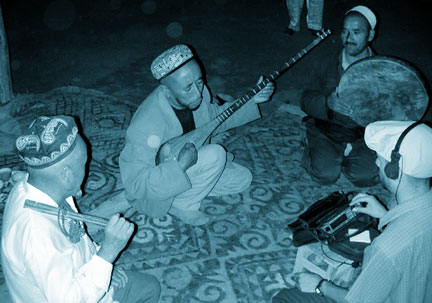 Audio clip: Adobe Flash Player (version 9 or above) is required to play this audio clip. Download the latest version here. You also need to have JavaScript enabled in your browser.
Ubul Hesan, Ehmed Tohti Kerim, Jabarahon – tambur, dap, sapaya and singing – recorded in the courtyard of a home in Karkax.
---