Field Recordings – page 3
go to: page 1 / page 2 / page 4
---
Audio clip: Adobe Flash Player (version 9 or above) is required to play this audio clip. Download the latest version here. You also need to have JavaScript enabled in your browser.
Listen to all the samples on this page in sequence with the player above, or individually below.
---
22.
Audio clip: Adobe Flash Player (version 9 or above) is required to play this audio clip. Download the latest version here. You also need to have JavaScript enabled in your browser.
group vocal – recorded under grape trellises in Artux
---
23.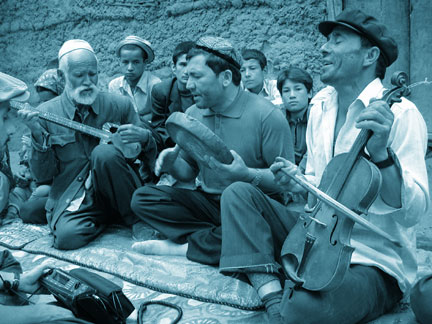 Audio clip: Adobe Flash Player (version 9 or above) is required to play this audio clip. Download the latest version here. You also need to have JavaScript enabled in your browser.
Tagh Mexrepliri – Ablizhan Abdemet, Metniyaz Wushur, Seyidehmed Turamet – recorded in Xuhpu – everyone from the village came out to watch me record – recorded in a mud courtyard.
---
24.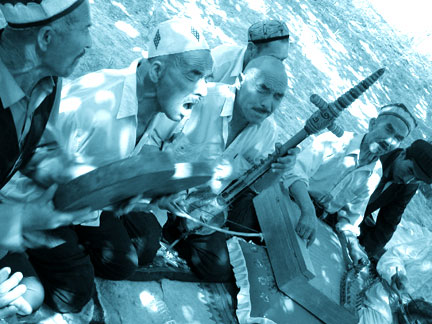 Audio clip: Adobe Flash Player (version 9 or above) is required to play this audio clip. Download the latest version here. You also need to have JavaScript enabled in your browser.
Dolan muqam – Dolan ensemble recorded in an orchard in Makit
---
25.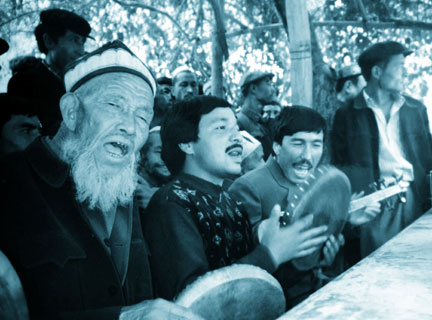 Audio clip: Adobe Flash Player (version 9 or above) is required to play this audio clip. Download the latest version here. You also need to have JavaScript enabled in your browser.
recorded at the Amannisa Khan park in Yarkand during a weekly Sunday meshrep. simply wandering through a small park in Yarkand, we came across this gathering which apparently happens every week. these guys play and locals just start dancing dolan style together – mostly men. i'll post a short video clip shortly.
---
26.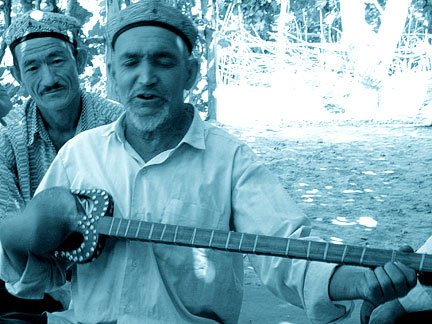 Audio clip: Adobe Flash Player (version 9 or above) is required to play this audio clip. Download the latest version here. You also need to have JavaScript enabled in your browser.
Tagh Koxak – Rosei Tomir – Rosei has a unique singing style as you can hear – his high, feathery voice took me a bit by surprise at first. His friends egged him on initially, teasing him saying that he was no longer the man he used to be…that he couldn't make his voice as high as he before. ravap & singing. recorded in Keria
---
28.
Audio clip: Adobe Flash Player (version 9 or above) is required to play this audio clip. Download the latest version here. You also need to have JavaScript enabled in your browser.
uncertain title (?) Kyrgyz folk song – Ebray, Hayat – komuz (Kyrgyz lute) & timur komuz (jawharp) – outside of Artux (area with a significant Kyrgyz population)
---
29.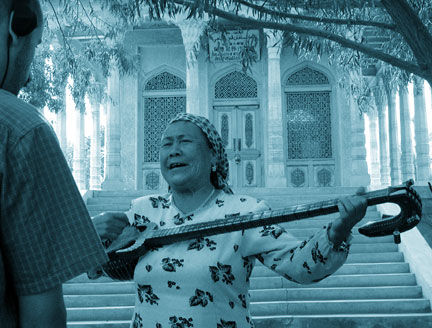 Audio clip: Adobe Flash Player (version 9 or above) is required to play this audio clip. Download the latest version here. You also need to have JavaScript enabled in your browser.
Ayxamgul Abdulrihim – recorded in the courtyard just outside Amannisa Khan's tomb in Yarkand.
---