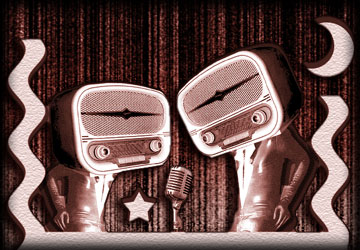 Here you'll find the unedited archived recordings of past LIVE s&S Radio webcasts – just as they occured on the dates listed in the posts….(well, mostly – i do admit to simply snipping out missed cues & dead air and the like.) Many of these weekly Sunday shows featured live mixes of music, sounds and performances originally beamed direct from our former Oakland home at 'Compound-Eye' – the bulk of which happened in 2005-2006. In time, I'll add more to the archive from earlier live show recordings – 2002 was a good year too before a hiatus preceding most of the material currently represented here, as were a good many (no, that's TONS) in the late 90′s on Free Radio Berkeley. In addition to LIVE radio shows, there are also a few pre-made shows by associates abroad that we were very honored to air.
Quite literally, there are days if not weeks worth of constant and more importantly, portable listening here at the moment…. with lots more to come! So mozey down a road, download or stream, lock yourself in a tool shed with your aluminum foil helmet/mp3 player…and enjoy!
Please leave a comment (love notes or juicy threats preferred) if anything grabs your fancy. Or drop an email via the CONTACT page.
Among these presentations: collage, noise, experiments, thriftcore music and found sounds, concepts a go-go and earloads of wide swinging, varied unconventionality… generally in the spirit of keeping things interesting, unusual and of course, um…FUN!
What a hoot to have been able to originally share these in real time with listeners around the world. far out, man. Thanks for tuning in if you did! …and especially thanks to those who sent in their wonderful sounds to play and incorporate.
Among the recurring members of the s&S show crew:
the Royal Oakland Gramophone Company (FC of s&S)
Ub Radio (Big City Orchestra & friends)
Headphoner & the Nurse (elaborate constructs sent all the way from Nantes, France just for us!)
Sagan (Blevin Blectum, Lesser & Wobbly – live performances beemed direct from their Bleakouse studio)
and many other noisey visitors to the catacombs.
While the regular LIVE Sunday shows have ceased for now, you'll find newly composed and constructed regionally focused installments showing up here as well – as they're created from the PR China (westside!) by FC over the coming year plus.
Oh hell, maybe even some other delectable stuff. Do check in!
ABOUT THE ACTUAL FILES
The audio files directly linked to on these archive posts are by and large – all 192kbps encoded MP3′s. So, because most of the shows were 2 hours or more, the files themselves can be a bit unwieldy if your connection isn't up to snuff. In latter cases, and especially with the longer shows, I got into the mode of breaking up the shows into 1 hour chunks when archiving, though most of the earlier ones remain as single 2 hour, 3 hour files etc…
If you'd like to stream or download a lower resolution file (smaller, lower quality) for any particular show, associated pages can be found by following the "PLAYLIST & INFO PAGE" links within the posts. From there, you can access other resolutions and flavors.
okay, go nuts.
-s&S
Copy the code below to your web site.