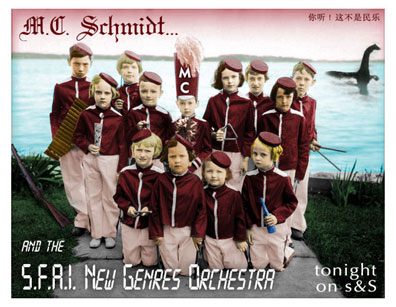 M.C. Schmidt & the SGAI New Genres Orchestra:(LIVE Performance!)
LIVE-webcast: April 30th, 2006
This night, M.C. Schmidt (known to most as the pointier half of esteemed 70′s super group MATMOS) descended upon the s&S studio with his current crew of noise students from the San Francisco Art Institute.
For this show, his New Genres Orchestra "6″ class performed & relayed a LIVE, champion collection of original works.
Precision execution indeed! sounds to soothe and exfoliate!
Enjoy!
-s&S
from the Matmos / MC pressmill:
—————————————>
RADIO LIVE TRANSMISSION: M. C. SCHMIDT AND THE NEW GENRES ORCHESTRA
Never underestimate the healing, Muse-protecting power of gainful employment. In M. C. Schmidt's waking life as an instructor in the New Genres Department of the San Francisco Art Institute, he has been teaching a course called "Sound As Music" this semester. M. C. and his faithful crew have been improvising together, building instruments, and writing and rehearsing new compositions, when they aren't busy reclining in total darkness on yoga mats and listening to voices, percussion-based music, old synthesizer albums, cut-ups and musique concrete, and general mayhem for hours and hours on end. They are taking a break from this busy schedule of meditation and study to share some of their recordings and to perform live on Shirley and Spinoza Internet radio on Sunday, April 30th at 8 PM.
—————————————>
running time: 2 hours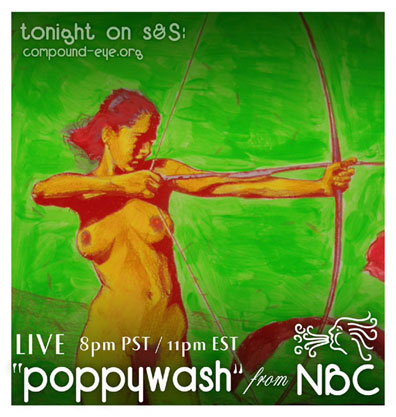 (LIVE performance)
webcast: April 23, 2006
hope you tuned in this night as the Neighborhood Bass Coalition opened up a fresh can of ready for export poppywash to pass around web-radio land.
direct from the NBC press mill:
**************************************
"Poppywash"
The Neighborhood Bass Coalition legion of cyborgs and special guest Bi O'Flava
will be using two hours on the internet to construct the book and music for an entire hit Broadway musical show live before your ears…..
Attempting to prove that indeed "anyone can do it", NBC staff technicians will labor away on air and you will be a witness to the birth of a new show-business phenonmenon, or at least another amazing noise set!
**************************************
PLAYLIST & INFO PAGE HERE!
running time: 2 hours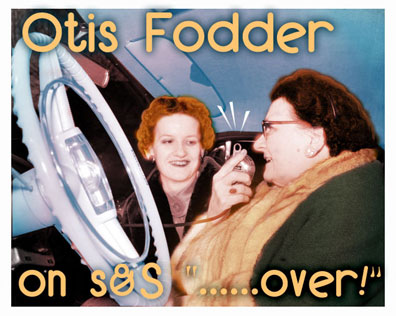 Friendly Persuasion (2 shows!) ….and more
webcast: April 16, 2006
"Breaker, Breaker HoneyHive 1- this is QueenBee. do you copy? over."
"copy Queen Bee, this is HoneyHive 1, go ahead….over."
"looks like we've got an Otis Fodder in possession of a stolen s&S webcast…..
that's Fod-der….Foxtrot, Oscar, Delta, Delta, Echo, Romeo. do you copy? over."
"We copy Queen Bee. we're sending backup right away. you just monitor the transmissions & stay on his tail, Queen Bee. do you copy? over"
"roger, HoneyHive. Driving blind but the Queen Bee's got her big Queen ears ON. over"
………
due to some mysterious turn of events, Mr. Fodder didn't actually make it to the s&S studio this night. Without a hitch however, an Otis plan B was put into play as we spun a couple of his fantastically fun Friendly Persuasion shows from last year. I present them here for your enjoyment along with the adjoining whine & banter: 'where's Otis?' & extra music at heads and tails. enjoy!
PLAYLIST & INFO PAGE HERE!
running time: 2+ hours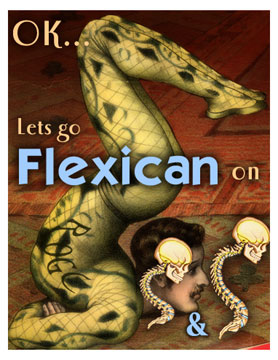 ROGC: Let's Go Flexican!
LIVE-mixed webcast: April 9th, 2006
If you and I have anything in common, it's most likely that we spend way too much time in front of this glowing box. Am I right?
I even heard your knuckles crack as you tried to close this window in a panic.
Not so fast, loyal s&S radio listener! We're on your side and help HAS arrived!
Join the Royal Oakland Gramophone Company as we offer 2 hours of live-mixed sounds, music and coaching to really re-spring those mouse-clicking support frames.
"Leotards on by 8!
Don't be late!
We're going FLEXICAN!"
yours in humble servitude,
-DJ Future Fossil
running time: 2 hours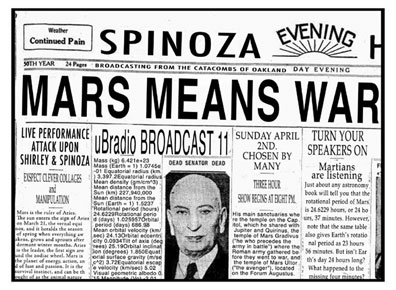 UbRadio: Mars Means WAR!!!
LIVE-webcast: April 2nd, 2006
THIS MONTH:
no two ways about it -
Mars Means War!
Battling for Team Earth were:
dAS, Wobbly, Univac.
Jesse Burson, Ninah Pixie, Melissa Margolis
on microphone duty
& Fausto surfing faders.
running time: 3 hours