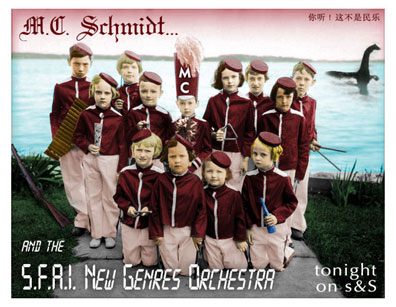 M.C. Schmidt & the SGAI New Genres Orchestra:(LIVE Performance!)
LIVE-webcast: April 30th, 2006
This night, M.C. Schmidt (known to most as the pointier half of esteemed 70′s super group MATMOS) descended upon the s&S studio with his current crew of noise students from the San Francisco Art Institute.
For this show, his New Genres Orchestra "6″ class performed & relayed a LIVE, champion collection of original works.
Precision execution indeed! sounds to soothe and exfoliate!
Enjoy!
-s&S
from the Matmos / MC pressmill:
—————————————>
RADIO LIVE TRANSMISSION: M. C. SCHMIDT AND THE NEW GENRES ORCHESTRA
Never underestimate the healing, Muse-protecting power of gainful employment. In M. C. Schmidt's waking life as an instructor in the New Genres Department of the San Francisco Art Institute, he has been teaching a course called "Sound As Music" this semester. M. C. and his faithful crew have been improvising together, building instruments, and writing and rehearsing new compositions, when they aren't busy reclining in total darkness on yoga mats and listening to voices, percussion-based music, old synthesizer albums, cut-ups and musique concrete, and general mayhem for hours and hours on end. They are taking a break from this busy schedule of meditation and study to share some of their recordings and to perform live on Shirley and Spinoza Internet radio on Sunday, April 30th at 8 PM.
—————————————>
running time: 2 hours