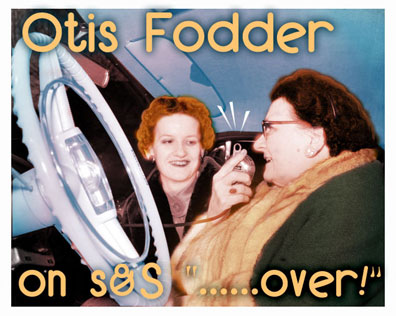 Friendly Persuasion (2 shows!) ….and more
webcast: April 16, 2006
"Breaker, Breaker HoneyHive 1- this is QueenBee. do you copy? over."
"copy Queen Bee, this is HoneyHive 1, go ahead….over."
"looks like we've got an Otis Fodder in possession of a stolen s&S webcast…..
that's Fod-der….Foxtrot, Oscar, Delta, Delta, Echo, Romeo. do you copy? over."
"We copy Queen Bee. we're sending backup right away. you just monitor the transmissions & stay on his tail, Queen Bee. do you copy? over"
"roger, HoneyHive. Driving blind but the Queen Bee's got her big Queen ears ON. over"
………
due to some mysterious turn of events, Mr. Fodder didn't actually make it to the s&S studio this night. Without a hitch however, an Otis plan B was put into play as we spun a couple of his fantastically fun Friendly Persuasion shows from last year. I present them here for your enjoyment along with the adjoining whine & banter: 'where's Otis?' & extra music at heads and tails. enjoy!
PLAYLIST & INFO PAGE HERE!
running time: 2+ hours