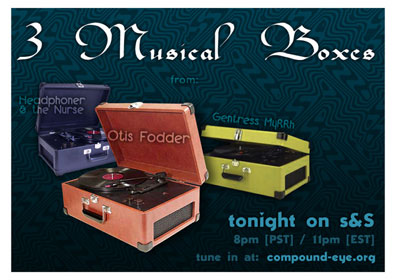 3 Musical Boxes… (guest shows)
webcast: February 26th, 2006
This night, we handed off the web-air-waves to 3 remote associates who offered their own assemblages of music & sound.
Audio glue provided by your studio host.
…from a rosey pink lemonade to a deep balsamic burgundy:
hour 1: Otis Fodder's: Friendly Persuasion
hour 2: Headphoner & the Nurse: Village
hour 3: Gentress MyRRh's: Cavalcade of Absurdity #6
running time: 3 hours
3 Music Boxes - hour 1 (O.F.'s Friendly Persusaion)
Play Now
| |
Download
(2192)
Copy the code below to your web site.