September 25th 2005 8-10pm
LIVE from the s&S studio
"Shopping Tips For A Fallen World"
The Neighborhood Bass Coalition (featuring Big City Orchestra currents & alumni)
was here piloting a steady 2 hour – credit card swiping, PIN punching, rhythm & noise, blue-light special to happily fill your shopping carts to.
so, sit back, tune in, and avoid panic buying…
running time: 2 hours
September 18th 2005 8-10pm
Murder On Moth Mountain!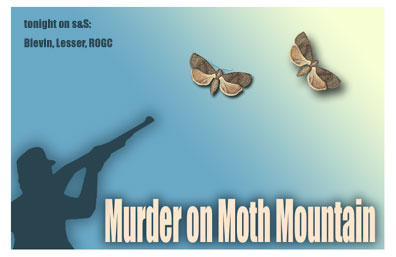 Blevin Blectum, Lesser, and The Royal Oakland Gramophone Company joined together to bring you an all expenses paid, luxury 2 hour vacation at the scenic, s&S alpine hideaway.
"But there is no murder, no moths, no mountain", you say!?
Ha! Well, there you go. WMOF – Moth Mountain Radio simply serves our little escapist community with words, noise and music. Considering the rule that closets remain wide open…I'd say, "Yeah, there are plenty of freakin moths about!"
running time: 2 hours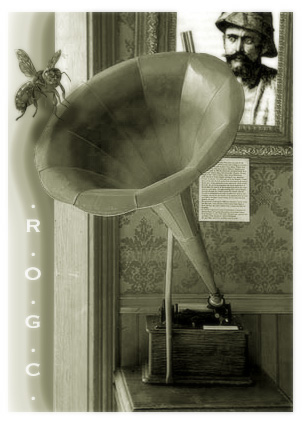 September 11th 2005 8-10pm
The Royal Oakland Gramophone Company: li'l Rattling Box of Keepsakes
This evening we kicked our loafers off, packed cherry tobacco pipes and selected from the master archive discs & cylinders:
highlights and sound expedition discoveries made during the R.O.G.C. live mixed shows over the last several months.
…plus a few new little detours as inspired! ..enjoy, or hope you did!
no posted file of this show yet….hope to remedy that soon!!
running time: 2 hours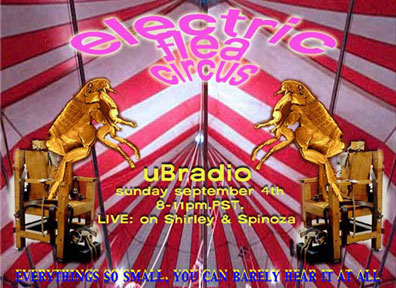 September 4th 2005 8-11pm
LIVE from the s&S studios (and the hallways in between)
…everything so small, you could hardly hear it at all…
this night saw here the kids of Ub Radio and their tiny tent crew of contact miked miniature sound makers – with hourly spoken / musical bumpers
running time: 3 hours