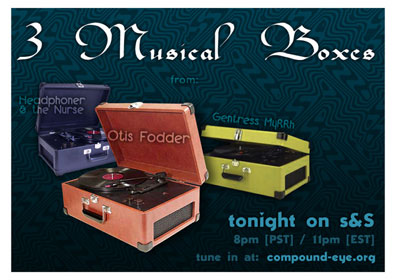 3 Musical Boxes… (guest shows)
webcast: February 26th, 2006
This night, we handed off the web-air-waves to 3 remote associates who offered their own assemblages of music & sound.
Audio glue provided by your studio host.
…from a rosey pink lemonade to a deep balsamic burgundy:
hour 1: Otis Fodder's: Friendly Persuasion
hour 2: Headphoner & the Nurse: Village
hour 3: Gentress MyRRh's: Cavalcade of Absurdity #6
running time: 3 hours
3 Music Boxes - hour 1 (O.F.'s Friendly Persusaion)
Play Now
| |
Download
(2190)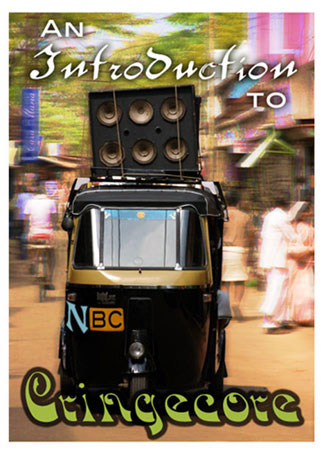 NBC: An Introduction to Cringecore
LIVE-webcast: February 19th, 2006
Drew and Rob of the Neighborhood Bass Coalition took the studio to bring you a little oof, ugh, um and hmmm caliber songs in this personally coined, 2 hour intro to the errrrr…genre. You're of course still invited to curl up on your bed of nails or pull up your straight back chair – and endure, (I mean *enjoy*) a special selection of tunes guaranteed to make you squirm.
Ah hell ! I bank on a lot more pleasure than pain – won't you agree?! Grab this archive now!
running time: 2 hours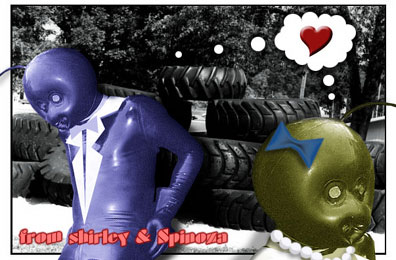 Some Damn Intern: Romance & Intimacy EXPO !! (Valentine's Show)
LIVE-mixed webcast of songs and sounds:
February 12th, 2006
Some Damn Intern presents: Romance and Intimacy EXPO 2006!
Crash! Boom! Boom! Crash!
but really….I was simply spinning, sprinkling sugary music & sounds for all the fermented berry-drunk lovebirds out there ….
Happy Valentine's Day!! no vinegar from this boy today.
** thanks to those who emailed to reserve a slow-dance with
Some Damn Intern on s&S (you know who you are)!
running time: 3 hours
February 5th, 2006 8-11pm
Ub Radio: – Musical Chairs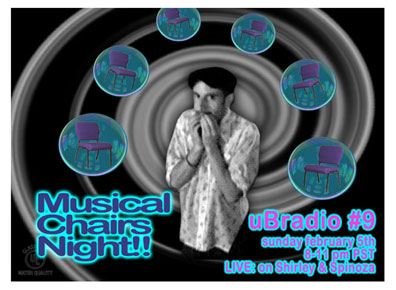 okay……
THE RULES:
Each musician brought an instrument that everyone would be able to "play".
When DJ Footstool played the theme music, the musicians got up and circled the table.
When the theme music stopped playing, the musicians sat in the closest chair & played that instrument!
got it?
running time: 3 hours