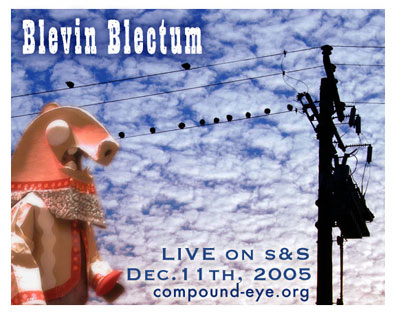 December 11th, 2005
Blevin Blectum – LIVE!
Mizz Blectum joined me here in the studio to perform ear dazzling new sounds and songs – ALL NEW, ALL LIVE!…..portions of which will be released in early 2006. Additionally, she & stellar husband J, exploited a lesser known s&S studio amenity in the process. Yep. do a show AND do your laundry while in the catacombs! s&S's got you covered!
running time: 1 hour 38 min
September 18th 2005 8-10pm
Murder On Moth Mountain!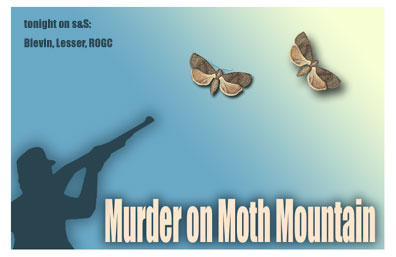 Blevin Blectum, Lesser, and The Royal Oakland Gramophone Company joined together to bring you an all expenses paid, luxury 2 hour vacation at the scenic, s&S alpine hideaway.
"But there is no murder, no moths, no mountain", you say!?
Ha! Well, there you go. WMOF – Moth Mountain Radio simply serves our little escapist community with words, noise and music. Considering the rule that closets remain wide open…I'd say, "Yeah, there are plenty of freakin moths about!"
running time: 2 hours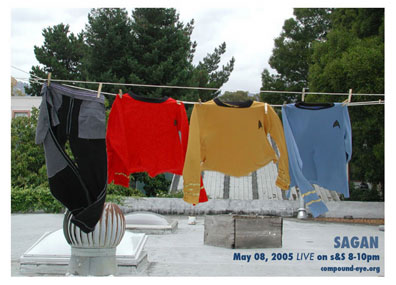 May 8th 2005, 8pm
* Scholarly blazer? – CHECK!
* Turtleneck? – CHECK!
* Billions & billions of tiny, etc? – CHECK!
If you REALLY love your mum, what better way to have celebrated Mother's Day than to have taken her on a cosmic sound tour of the outer universe with a LIVE Sagan show? – all without even leaving the trailer?! There was none.
This performance of what has apparently become the monthly Sunday SAGAN Fireside Sound-Council was simply top-notch. A LIVE studio to studio linked event!!
Unfortunately, on this round, we had some technical problems – namely an intermittently shakey audio link with the Sagan studio – often it was just great, but in segments sputtered like crazy – we'll be ironing this stuff out during the week and making the setup 'bulletproof' for next time. Thanks for all the LIVE emailed input from listeners out there in the field!
Sagan = (Blevin Blectum, Lesser, and Wobbly).
running time: 2 hours
Sunday, April 3rd 2005, 8pm
LIVE: SAGAN returned!!!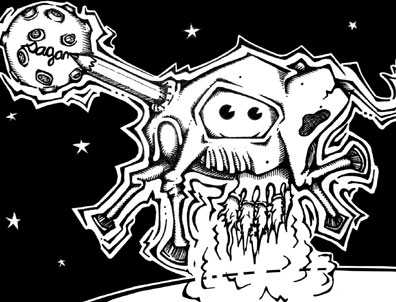 Though it didn't technically count as "returning" since they LIVE audio linked with the s&S studio from their home base. Hope you tuned in, blended yourself a future-shake, listened to the sounds of the year 6000 AD – and vainly made an attempt to graph the incomprehensible multi-dimensional routes signals took before reaching your ears. Featured were loads of field sounds recorded at the Chabot Observatory earlier in the day
Sagan = (Blevin Blectum, Lesser, and Wobbly).
mp3 excerpts:
running time: 2 hours
Sunday, March 13th, 2005, 8pm
LIVE: SAGAN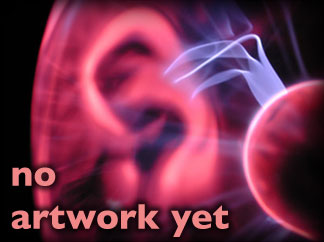 A live cross-town studio to studio sound link from bLeakhouse to Compound-Eye: Sagan = (Blevin Blectum, Lesser, and Wobbly).
Beaming directly from their bLeakhouse studio, Sagan remotely hotdogged the s&S shuttlecraft though the crab nebula, dicey asteroid fields and hyperspace rips without even breaking a sweat – not to mention that perfect 3 point landing on stage just in time to kick Rick Wakeman's scrawny little 1978 cape-wearin ass.
mp3 excerpts:
running time: 2 hours