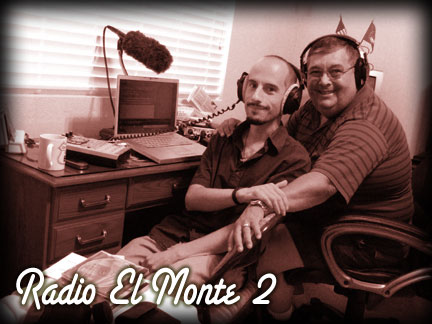 Riding on the enthusiasm from the previous show, father and son caballeros, FC2 and FC3 served another heaping helping of south of the border tunes both from the elder's collection and recordings & selections chosen by the younger. This followup to the first Radio El Monte, came at the tail end of an very enjoyable visit home after 2 years in the PRC – just before heading back to the other side of the same wormhole. Some folks take photos to preserve the spirit of a time, some folks make little radio shows – lucky for you & your commute listening that we decided to be the latter for another hour.
Features music and other fun recordings. If you understand Spanish, you'll get the back-announces and other half of the banter. Otherwise, you can follow the playlist below. Enjoy!
listen to SO-SO quality stream here:
Audio clip: Adobe Flash Player (version 9 or above) is required to play this audio clip. Download the latest version here. You also need to have JavaScript enabled in your browser.
OR
DOWNLOAD Hi Quality HERE: Radio El Monte 2008/08/12
playing time : 1 hour
Playlist:
Family greeting from Sacramento / camera audio & jazz festival
Radio El Monte station ID – shortwave
1. La Bikina (Marimba)
DJ Intros
2. El Muchacho Alegre (El Piporro)
3. Alma Llanera (Mariahi Vargas)
4. El Tenampa (Pedro Infante)
DJ Banter & back announce
5. El Gusto (Mariachi Vargas)
6. Historia de un Amor (Perez Prado)
7. Esta Tarde Vi Llover (Trio Los Panchos)
8. Czardas (Marimba with… Canaria speaking Spanish)
9. Somos Novios (Mariachi Vargas)
DJ banter & back announce
10. El Taconazo (El Piporro)
DJ banter – song introduction
11. Las Mañanitas (Mariachi Vargas)
Happy Birthday from Radio El Monte

12. La Madrugada (Mariachi Vargas)
Commercial: Fundador
13. Siboney (Mariachi Vargas with… more Canaria speaking Spanish)
14. Cantares de mi tierra (Festivales de Chiapas & Oaxaca)
15. Jesucita en Chihuahua (Mariachi Vargas)
16. Palomita Blanca (Pedro Infante)
DJ banter and back announce
17.Quizas, Quizas, Quizas… (The Peanuts)
Farewell
18. Las Golondrinas (Mariachi Vargas)
Copy the code below to your web site.