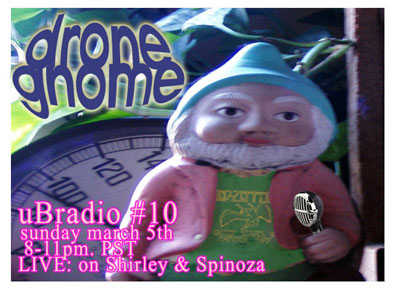 UbRadio: Drone Gnome
LIVE-webcast: March 5th, 2006
PLAYLIST & INFO PAGE HERE!
3 hours of drones with occasional spoken word bits (provided by real-live gen-u-ine gnomes!)
plus our usual hand-selected, theme-oriented tunes in between…
The uB Radio droning gnomes for the evening were:
Jesse Burson ("Gnome de Plume"), Ninah Pixie ("Trollata Gahnoom"),
dAS ("Gnome Chomsky"), Fausto ("Big Guy"),
Cliff Neighbors, Andy Way, Russ Kent
running time: 3+ hours
Copy the code below to your web site.