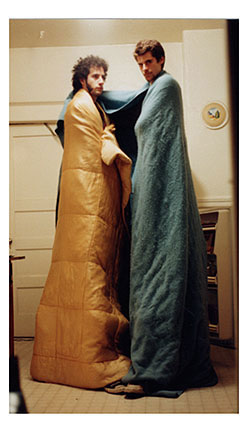 While the title of this 'show' might suggest that it directly followed Episode 23, that's not exactly the case.
"23″ was a half hour compilation of segments from the first semester of s&S during the CalArts years – compiled from and to cassette in 1993. Episode 24 was also similarly a compilation sampler of unrelated segments but mostly pulled from the shows when S of s&S had a generally solo stint assaulting the micro-power airwaves at Free Radio Berkeley the year or two following (1994-5).
After graduating, S of s&S moved up north to the San Francisco Bay Area, while s of s&S stayed at CalArts for another pair of years to throw more money into the art school well. Often I (s) would generate layered source mix tapes to send north to Dave and he would use use them in the mix of his show at FRB – which was at the time in the converted upstairs bathroom of a group hippie house in Oakland. Truth be told, "s&S north" may have embellished these clips a bit before offing them to me by post back in 1994 or '5. But a spastic radio-audio letter from a best pal, shoot! what could be more fun to get in the mail?…
And…so…. suddenly, the Berkeley burnout callers revealed proof of the geography…no question that s&S had quite shifted to the Bay Area.
Listen to a Lo-Fi stream here:
Audio clip: Adobe Flash Player (version 9 or above) is required to play this audio clip. Download the latest version here. You also need to have JavaScript enabled in your browser.
OR
stream / download the Hi-Fi 192kbps MP3 file below:
Copy the code below to your web site.